---
Nawa-e-Waqt, Editorial, May 6, 2010
India is not stealing Pakistan's water, says Pakistan's Foreign Minister, which country does he represent? Nawa-e Waqt
The editorial of Nawa-e-Waqt Urdu Daily criticizes Pakistani Foreign Minister Shah Mehmoud Qureishi over his remarks that "India is not stealing Pakistan's water but it is going waste because of mismanagement." Taking strong exception over his remarks, the Editorial says that "Pakistan's Indus Water Commissioner, Jamat Ali Shah is screaming over the usage of Pakistan's share of water by India, Indian Indus water Commissioner, Rangnanathan has accepted this fact in a conference in Lahore that Pakistan is getting less water than that of its share. Pakistan's dry rivers give testimony to the fact. Therefore, Pakistani Foreign Minister's remarks amount to treason and it is an attempt to appease India." The paper questions "whose Foreign Minister is he, India's or Pakistan's? It says that Qureishi's statement that India is not stealing Pakistan's share of water is dubious since in Thimpu the Indian Prime Minister has assured Pakistan of resolving the water issue.
The Daily says that "Pakistan is preparing its case to present the issue before the World Bank which is guarantor and mediator between India and Pakistan on the issue of Indus Water" and opines that "Foreign Minister's statement will weaken Pakistan's case". The Daily asks Qureishi "to explain his statement" and suggests that "if he fails to give satisfactory answer, the government of Pakistan should take a serious note of it."
http://www.nawaiwaq,t.com.pk/pakistan-news-newspaper-daily-urdu-online/Opinions/Editorials/02-May-2010/10746
Conspirators of 26/11 should have been prosecuted by joint commission: Azkar
In an editorial written after the pronouncement of punishment by Mumbai Court to Ajmal Kasab for his involvement in 26/11 terrorist attacks, the Azkar Urdu Daily writes that "the terrorist attack were executed at the time when Pakistani Foreign Minister was in India and was due to meet his Indian counterpart and a major decision to resolve Kashmir issue was expected, but the terrorists averted a possible decision by that act." Giving this context, the Daily opines that before announcing the quantum of punishment the aims behind the attacks should also have been examined.
The editorial mentions a less reported issue in its editorial and claims that a call was made by the Indian Foreign Minister in the "voice of" Pranab Mukherjee to Asif Ali Zardari threatening Pakistan with an attack. The Daily says that the call "later proved hoax," however, the call was made from the Indian Ministry of external Affairs.
In this context the Daily opines that "since during the Mumbai terror attacks, infrastructure of different countries were used, a joint commission should have been constituted and all those involved should have been prosecuted as Mumbai was not a small incident." This attack "was a conspiracy to push the two nuclear countries into a war and the conspirators deserve no sympathy," says the Daily. In conclusion, the editorial opines that "punishment has been announced to Kasab who is no doubt a Pakistani, but suspense remains over the people behind the call made to Pakistani President."
http://www.dailyazkaar.com.pk/new/detail.php?category=21339&category_id=27&page
Pakistan Pulse
It was not right to award capital punishment to Kasab: opinion poll
Majority of Pakistani think that death sentence should not have been awarded to the lone terrorists captured alive during Mumbai terror attacks, reveals an opinion survey by a Pakistani Urdu Daily. A day after the pronouncement of death sentence to Ajmal Kasab for his involvement in Mumbai terror attack, Asas Urdu Daily conducted an opinion poll asking whether it was right to award death sentence to Ajmal Kasab? Only 2412 respondents responded in "Yes", while a majority of 7421 respondents responded in "NO".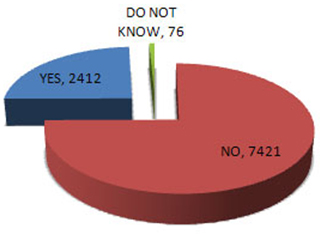 (Poll Conducted on May 07, 2010)
http://www.dailyasas.com.pk/poll_answer.html