Joyce Sabina Lobo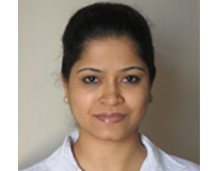 Archive data: Person was Research Assistant at IDSA from October 2010 to March 2012
Joined IDSA
October 2010
Areas of Interest
At IDSA, Miss Joyce S. Lobo is focussing on Energy Diplomacy; Eurasian Security Issues including Military and Security Policies; Russia's Policy towards Asia, West and particularly India. Her other areas of interest are Political issues especially related to institutions with partial inclination towards political economy in relation to post-Soviet Repbulics.
Education
PhD in Russian Studies, Center for Russian and Central Asian Studies, SIS, Jawaharlal Nehru University, New Delhi.
Background
Prior to joining IDSA, she had a brief stint (August to October 2010) in Shri Ram College of Commerce as guest faculty. She has assisted as research scholar at Society for All Round Development (SARD-an NGO) on the topic of "Anti-Personnel Landmines" (2004). She has done her M. Phil from Center for Russian and Central Asian Studies (JNU) and MA in Political Science (JNU); B A from St. Aloysius's College, Mangalore University. Also she holds PG Diploma in Human Rights from Indian Institute of Human Rights, New Delhi.
Select Publications
Book review, on Oil, Transition and Security in Central Asia by Sally N. Cummings (ed.) London: Routledge, 2010. In Cambridge Review of International Affairs, 2011 Vol. 24 (4), pp. 697-8.
"Russia's Foreign Policy in Asia", co-authored by Rajorshi Roy, Queries, N° 03 (6)/2011, p. 83-90.
"EU and Russia: gateway to WTO", Defence and Security Alert, March 2011.
Book review, on Debating Varieties of Capitalism: A Reader by Bob Hancké (ed). Oxford: Oxford University Press, 2009. In Political Studies Review, 2010 Vol. 8 (3), p. 413.