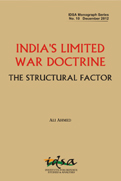 The aim of the monograph is to examine the structural factor behind the development of India's Limited War Doctrine. At the structural level, the regional security situation has impacted India's strategic posture - primarily the threat posed by Pakistan, India's revisionist neighbour. Given its revisionist aims and relative lack of power, Pakistan covertly went nuclear. This has accounted for its prosecuting a proxy war against India. India was consequently forced to respond albeit with restraint, exemplified by its response during the Kargil War, Operation Parakram and in the wake of 26/11. Emulating Pakistan's proactive posture at the subconventional level, India reworked its conventional war doctrine to exploit the space between the subconventional level and the nuclear threshold for conventional operations. This has been in accordance with the tenets of the Limited War concept. In discussing India's conventional war doctrine in its interface with the nuclear doctrine, the policy-relevant finding of this monograph is that limitation needs to govern both the conventional and nuclear realms of military application. This would be in compliance with the requirements of the nuclear age.
About the Author
Dr. Ali Ahmed is currently political affairs officer in the UNMISS.
The monograph was completed during his fellowship at the Institute for Defence Studies and Analyses, New Delhi in 2010-12.
Order Hard Copy
Please email us at publication [at] idsa.in or call +91-11-2671 7983 (Ext. 7322)