Col P K Gautam (Retd)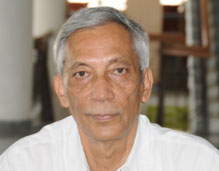 Joined IDSA
Joined IDSA in 2005. Presently member of both non traditional and military centres. Over 29 years of military service and veteran of 1971 war in Bangladesh and Operation Meghdoot(Siachen).
Background on Environmtal Matters
12 years of research experience on environment post premature retirement in 2000. Held Defence Research and Development Organisation(DRDO), DS Kothari chair at the USI of India from 2002 to 2003 on environmental security. Research output of that work is in book Environmental Security: Internal and External Dimensions and Response (New Delhi, Knowledge World , 2003).
Some Publications on Environment
Was working group secretary and workshop convenor  of IDSA Task Force on climate change with chapters in the report  Security Implications of Climate Change for India(New Delhi, Academic Foundation, 2009). Research  on the military and the environment from 2005 to 2008 published as   Environmental Security: New Challenges and Role of Military (Delhi, Shipra Publications ,2010).Contributed to IDSA Task Force on Water Security a(2010). Articles/Briefs/Chapter  -  " Climate Change and Environmental Degradation in Tibet: Implications for Environmental Security in South Asia", Strategic Analysis, Vol.34, No.5, September 2010;  The Arctic as a  Global Common, IDSA Issue Brief, September 02, 2011; Environmental Security and Regional Cooperation: What is Feasible? in D. Suba Chandran and J. Jeganaathan(Ed), Energy and Environmental Security : A Cooperative Approach in South Asia , IPCS/Konard Adenauer Stiftung, October , 2011 and ;   "Climate Change and Conflict in South Asia",  Strategic Analysis, Vol.36, No.1, January 2012.
Some Publications on Military and Other Topics
Operation Bangladesh (New Delhi , Manas Publishers, 2007)
Composition and Regimental System of the Indian Army: Continuity and Change (Delhi ,IDSA/ Shipra Publications,   2008)
Trends in Thinking about Warfare , Strategic Analysis, Vol.33, No.6, November 2009
Ways of Warfare and Strategic Culture, Defense  & Security Analysis, Vol.25, No.4, December 2009
Issues and Steps in Force Modernisation, Centre for Land Warfare Studies Journal, Winter 2010
Renaissance of Military History and War Studies in India, IDSA Occasional Paper Number 21, November 2011
Back to the Basic : Foot and Hoof Mobility in the Mountains,  IDSA Policy Brief, 2011 ( co-authored with Virander Kumar )
Reassessing India's Disaster Management Preparedness and Role of the Indian Armed Forces, Journal of Defence Studies, Vol.6, No.1, January 2012( co-authored with Shivananda .H )  
Tibet and India's Security: Himalayan Region, Refugees and Sino- Indian Relations co-authored with Dr Jagannath Panda and Dr Zakir Hussain, May 2012(IDSA Task Force Report)  
Forthcoming Publications
"Learning Lessons and Revisiting Myths from Kameng", Journal of Defence Studies, Vol.6, No.3, October 2012     
 Disaster Relief portion of Military Centre's Project on Out of Area Contingencies
Monograph/Occasional  Operational Lessons of the Wars of 21st Century
Chapter on A Cooperative Security Framework – Environment and Climate Change in edited proceedings of 5th South Asian Conference of November 2011  
Monograph One Hundred Years of Kautilya's Arthasastra 
"Relevance of Kautilya's Arthasastra,  Strategic Analysis, Vol.37, No.1, January- February 2013
Chapter on Non Traditional Security:  Conceptual Issues in  edited proceedings of  14th Asian Security Conference of February 2012