Babjee Pothuraju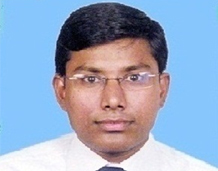 Archive data: Person was Research Assistant at IDSA from March 2011 to January 2013
Joined IDSA
March 2011
Areas of Research
West Asia and Africa, South Asia Politics and Security Studies, Pakistan, and Transnational Terrorism.
Background
Completed M.Phil. in South Asian Studies from Jawaharlal Nehru University, New Delhi in 2007, and currently pursuing Ph.D. from the same university on the topic "Pakistan-Saudi Arabia Relations: 1977-2008". He is also a Junior Research Fellowship (JRF) holder in International and Area Studies, awarded by the University Grants Commission.
Prior to joining IDSA, he worked with institutions like Institute for Conflict Management (ICM), South Asia Research and Development Initiative (SARDI) and Grassroot Research and Creations (Pvt.) Ltd. He has also completed an apprentice programme with Ananta Online Graphics Studio (Pvt.) Ltd. and presently pursing a Certificate Course in Arabic from Indira Gandhi National Open University (IGNOU), New Delhi.
Select Publications
"Pakistan-Saudi Arabia Relations: Implications for India", International Journal of South Asian Studies, Vol. 4, No. 1, Jan-Jun 2011, pp. 79-100.