Arvind Gupta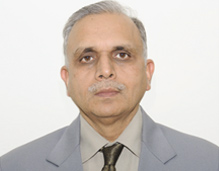 Assumed charge as Director General, IDSA on 5th January, 2012.
Belongs to the Indian Foreign Service, 1979 batch. Currently holds the rank of Additional Secretary to the Government of India. He is on deputation to the IDSA. Has worked in MEA in different capacities and served in diplomatic missions in Moscow, London and Ankara.
Held the Lal Bahadur Shastri Chair on National Security at the IDSA from 2008 to 2011.
Prior to joining the IDSA, he was Joint Secretary at the National Security Council Secretariat from 1999 to 2007. During his tenure at the NSCS he dealt with a wide range of international and national security issues and participated in the various working groups and task forces set up by the NSC. He also worked with the Kargil Review Committee.
At the IDSA he headed the South Asia and Internal Security Clusters and edits the Institute's flagship bi-monthly journal: Strategic Analysis.
His current interests include the impact of globalization on India's security, foreign policy, diplomatic challenges before India; energy security, climate change, India's neighbours, internal security and technology & security issues.
He has three books, several edited books and a number of academic publications to his credit. He has been a member of several task forces on issues such as space security, climate change, cyber security, nuclear disarmament etc.
Book Authored
Dictionary Of New Scientific And Technical Terms, Vikas Publishing House Pvt. Limited, 1997
At The Cutting Edge, New Age International Pub. (P) Limited, 1996.
Books Edited
Chapter in Books
Member of Task Force Reports
Articles in Media
Addresses / Remarks
Papers presentated outside IDSA
Keynote Address delivered at National Seminar on "Federalism, Foreign Policy and Border States: Dynamics from North East States of India" at Sikkim University, 22-23 March 2013
Keynote address at the National Seminar on "India's Non-Traditional Security Challenges" organised by Punjabi University, Patiala, 22nd-23rd February 2013
Paper presented on "Careers Beyond Academia: Role of Think Tanks" at Annual Convention of Indian Association of International Studies, December 10, 2012
Key Note Address at Indian Ocean Global Forum 2012, Plenary Session - Indian Ocean Rim Potential for Partnerships, September 25, 2012
"IDSA and Public Diplomacy", Speech at Conference of Heads of Missions, New Delhi, September 16, 2012
"Myanmar's critical role in bolstering India's Look East Policy", International Conference on Myanmar: Bridging South & Southeast Asia" by Jamia Milia Islamia, January 30, 2012
"India-Japan Strategic Partnership: Prospects and Challenges", ICRIER Seminar on India Japan Relations, February 28, 2012.
"Global Security and the Role of Ethics and Values", World Academy of Art and Science, October 2008.