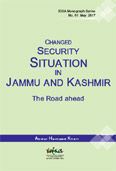 The state of Jammu and Kashmir (J&K) was the scene of a full-blown insurgency in the 1990s. The situation started to improve gradually by the end of that decade and rapidly thereafter, with the initiation of peace talks between India and Pakistan and conduct of dialogue between the Government of India and stakeholders from Kashmir in the early 2000s. Incidents of violence dropped and voter turnout in elections increased significantly. But, as the peace process petered out, disturbances started to build up again. In 2016, there was a complete breakdown of law and order post the killing of Burhan Wani.
The volatile security scenario in J&K is a manifestation of Pakistan's proxy war with India, combined with the unsettled political issues of the state. Though successful initially, Pakistan eventually lost the majority support of the people of the valley as its double standards lay exposed. Kashmir looked for peace, but with the breakdown in the peace process between India and Pakistan, and with the fate of Kashmir tied to it, a lasting normalcy remained elusive. The only way forward for India, therefore, is to decouple the Kashmir issue from that of Pakistan, and address the internal aspects: Kashmir's development, unsettled political issues, healing the wounds and alienation of the youth, promptly. It must be remembered that a strong and stable J&K is an anti-traction thesis for Pakistan and the biggest tribute to the pluralist Indian society and its flourishing democracy.
About the Author
Abdul Hameed Khan is a serving Infantry officer of the Indian Army. He has rich experience of counter-insurgency operations in both North-East India and Jammu & Kashmir (J&K). Among other appointments, he has served as an Instructor at the Indian Military Academy; as staff in the Directorate General of Information Systems; and has commanded a Rashtriya Rifles (RR) Company and a Battalion in J&K. He has written papers on "Reducing religious appeal of Militants in J&K" (2004); "Cross Border Infiltration: An Analysis" (2013); "Societal Polarisation: An Emerging Threat" (2015); and "Relief and Rehabilitation of Kashmiri Migrants" (2016). He was until recently a Research Fellow at IDSA, on study leave, where he focused on Internal Security issues in India, in particular on J&K and other emerging threats.