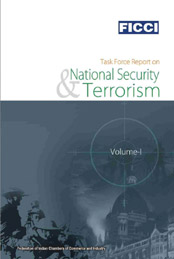 Task Force Report on National Security and Terrorism, Federation of India Chambers of Commerce and Industry, New Delhi, 2009.
The gradual rise of India as a major power in the global arena has not only attracted the attention of the international community but has also made it a key target for terrorist groups. Attacks on Red Fort, the Parliament, Indian Institute for Science, and blasts in Mumbai suburban trains by Pakistan based Lashkar-e-Toiba and Jaish-e-Muhammad and attacks on Sankat Mochan Temple and Mecca Masjid and serial bomb blasts in Delhi, Jaipur, and Ahmedabad by Indian Mujahideen are a few such instances. The Mumbai attack of November 26, 2008 is the most recent in this series. As these attacks demonstrate, Pakistan-based terrorist groups have expanded their area of operations from Kashmir to cover the entire heartland of India with a concomitant change in their targets as well. So along with security personnel, they are increasingly attacking symbols of India's political, economic and religious vibrancy with the objective of shattering the image of India as a stable, secure and dynamic economy. And in their operations, these Pakistan-based terrorists are considerably assisted by fringe elements and the domestic terror group - the Indian Mujahideen - who are radicalised and motivated by local grievances. Together these terrorist groups have unleashed a wave of terrorism spread across the entire country.
It is with this wave of terrorism that the recently published 'Task Force Report on National Security and Terrorism' by the Federation of Indian Chambers of Commerce and Industries (FICCI) grapples with. The Report reiterates that India is facing a 'new terrorism', which is more virulent, sophisticated and religiously motivated. However, to combat this menace, the Report observes, India lacks a robust and comprehensive counter terrorism strategy. The existing mechanism is mired by various systemic inadequacies and does not take into account the role of private sector and civil society in fighting terrorism. Identifying Pakistan as the main source for cross border terrorism, the Report argues that given the indifferent attitude of major powers towards Pakistan-sponsored terrorism, India has to devise its own strategy to deal with Pakistan. By employing various options ranging from suspension of all trade and travel with Pakistan, carrying out surgical strikes on terror camps in Pakistan and launching limited but intense attacks on Pakistan Occupied Kashmir (POK) to seeking greater cooperation through intelligence sharing, joint military interactions, establishment of free trade zones and more cultural exchanges, the Report argues, India could make sponsoring cross-border terrorism costly for Pakistan.
For fighting terrorism effectively at the national level, the Report suggests evolving a 'National Counter Terrorism Architecture'. It essentially involves prevention of terror attacks through intelligence, physical security, proactive policing, strengthening maritime security and revamped counter-terrorism machinery in metro cities. Towards this end, the Report forwards a set of recommendations. Some of these are:
creation of a Director of National Intelligence for better intelligence assessment
creation of a National Counter Terrorism Agency for collection and dissemination of processed intelligence and for investigating all terror related cases
strengthening intelligence sharing
developing National Intelligence Grid
creation of a separate Ministry of Internal Security dealing exclusively with terrorism and left wing extremism
implementation of police reforms to build a robust professional police force
strengthening coastal police and Coast Guard and soliciting active participation of fishermen community
establishing of effective response system in cities
The Report emphasizes that terrorist attacks adversely impact businesses and the society at large. Therefore, the government should address the security concerns of the business community and co-opt them in formulating terror prevention/response plan. The private sector and non-government organizations with their expertise, extensive networks and resources, can assist the government in its fight against terrorism. Recognising the role Media play in disseminating terror-related events and its consequent impact in influencing public opinion and decision making capabilities of the Government, the Report asks them to be more responsible in their reporting. It recommends conducting a joint Government and Media training exercise to sensitise each other about the other's point of view. It also requests the Government to create media pools for the dissemination of information during any terror attack and promoting voluntary press coverage guidelines.
The Task Force Report brought out by the FICCI commands appreciation because this is the first time that the industry chamber has taken a lead in discussing national security issues. The Report is very comprehensive as it deals with a gamut of issues challenging the internal security of the country, be it terrorism, naxalism or insurgency in the Northeast and suggests measures to tackle these problems. It is also quite distinct because for the first time such a study has highlighted the fact that terrorism affects the entire spectrum of Indian society and therefore private sectors and civil societies should be increasingly involved by the Government while formulating national security strategies. Another important aspect of combating terrorism which the Report brings out quite well is the need for constructively engaging the media in disseminating correct information during any terrorist attack.
Though the Report is quite exhaustive in its recommendations for prevention of terrorist attacks in the country, there are a few gaps that it leaves unaddressed. Firstly, while correctly pointing out the Pakistan is the main sponsor of terrorism in India and suggests measures to deal with it, the Report remains silent on how to address the problem of domestic terror groups such as the Indian Mujahideen. These domestic terror groups are basically driven by local grievances that are mainly political in nature and therefore cannot be solved by mere administrative restructuring. For this the Government has to take steps to ensure communal harmony in the country and bring the perpetrators of communal riots to justice by overhauling the judicial system. Secondly, most of the recommendations forwarded by the Report such as strengthening of Intelligence Bureau, implementation of police reforms, creation of specialized forces in states without any peripheral duties, intelligence exchange and maintenance of upgraded database on all crimes, strengthening the Department of Internal Security, etc. can be found in the Recommendations of the Group of Ministers Report on Reforming National Security System of 2001.
This only goes to underline the fact that even if solutions are known to the Government, they are hardly implemented. Various issues such as lack of political will, resource crunch, turf war, apathy, and general inertia create hurdles. And most often, it takes a major crisis to jolt the political class and the government out of their slumber. One such case is the creation of National Investigation Agency (NIA). The need for setting up an NIA had been proposed for many years but because of lack of political consensus it could not be established till 26/11 happened. Similar is the case with the execution of the Coastal Security Scheme, which was formulated in 2005-06. Barring one or two states none of the coastal states displayed any interest in implementing the scheme till the Central government made it mandatory for them to fully implement it following the Mumbai terror episode. And even if any organization is created or a scheme is implemented, turf wars, inadequate infrastructure, and lack of professionalism severely impair their functioning. The FICCI Report does not provide any answers to address these ground realities. Therefore, while it is necessary to approach the problem from a broader perspective, it is also imperative to take into account ground realities while formulating solutions.